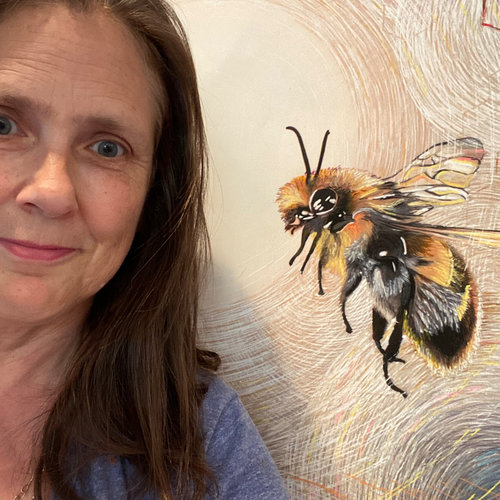 As a native of Marblehead, Massachusettes, Barrie Goshko has New England roots but relocated to Los Angeles, California over 35 years ago. She received her BA from Harvard College, with a concentration in Visual and Environmental Studies (emphasizing printmaking and painting).
On moving to Los Angeles after college, she worked at Gemini G.E.L. as an assistant printmaker on Roy Lichtenstein's Imperfect Series. Her fascination with multiples and printing led to a job at a color separation house where she learned the technical aspects of commercial printing. A long career in graphic design and digital imaging followed, beginning as the industry morphed from an analog craft onto computers. The combination of techniques have informed her practice throughout, combining digital processes with traditional media in both commercial and personal work.
As a designer, Barrie created pieces for several record companies including A&M Records, Warner Bros. Records and Virgin Records, before lending her talents to Smog Design studio in Silverlake for several years, where she worked on projects for Cher, Janet Jackson, Sheryl Crow and many others.
Early access to digital technology influenced the direction of her work. For many years, she was fortunate to print with Nash Editions in Manhattan Beach where they allowed her to experiment freely and create works on experimental substrates, including painted canvases and aluminum foil, as well as traditional Iris prints in small editions. As technology became more accessible, she began creating large format prints in her own studio.
Her current work focuses on drawing and combines digital processes with ink drawing and hand stitching to create unique works that speak with one another through their roots in shared imagery.
She is a member of Los Angeles Arts Association. Her work is in The Long Beach Museum
of Art and The Forward Thinking Museum. It is represented extensively within the Wonderful Companies collection (Lynda and Stewart Resnick's corporate holdings) as well as other corporate and private collections.