PROCEED TO THE GLITTERATI GALLERY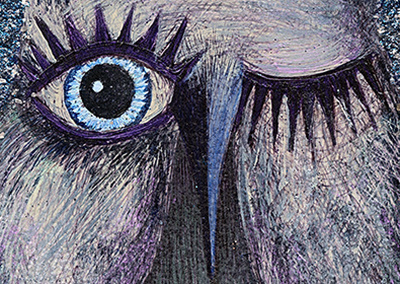 "The night makes us more luminous and helps to hide our imperfections." — Kristen Nyberg

The Glitterati were originally conceived in 2010 as a small set of acrylic paintings intended as holiday gifts. Several years later, I am still working to complete them. Turns out owls have

A LOT

of opinions and these owls seem to be rather vain and want to appear their best for their debut. But really, who can blame them? No, they won't be rushed in their preparations, but several are finally ready for their close-ups. More will be completed in the days to come so check back.

These small works (5" x7") are closely related to The Kerfluffle paintings and are also based on my daily sketchbook drawings, but they are executed in acrylic paint with lots of glitter, since these owls want to shine. Often when I paint in acrylics I use a razor blade rather than a brush to spread the paint. This signature technique can be seen throughout the series and is particularly evident in Alfred, Winnifred, Ned, and Agnes.

The Glitterati sparkle by night and day changing with the ambient light (which is difficult to capture in their photos). They do hope to impress you with their fabulous appearance (many years in the making) but they are at least sure to warm your heart.

Available works can be found on etsy in The Kerfluffle Shop.