RETURN TO IMAGE GALLERY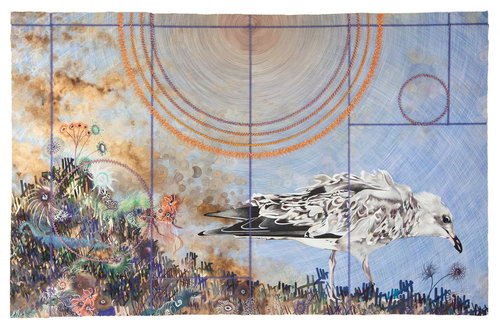 I draw.
I draw to explain the world to myself.
I draw to explain me, to myself and others.
I draw to control my anxiety, my destiny, my universe.
I draw to understand my reality, and to alter it.
I draw to explore the spaces between things, to illuminate the possibility that lies there.
My practice is hybrid. Digital and analog. Moving between the two spaces, I layer pixels and ink and thread. Fluid. I spend time, touching the images over and over again. They reveal themselves slowly. They shift. Carefully observed nature mixes with imagination. What is. What could be. In drawing I leave a mark. Evidence that I am here. Evidence that here is here. It reassures me. The world emerges.
The marks speak to memory as my process allows me to revisit imagery and explore it. I can reveal multiple dimensions, achieve multiple outcomes. Memory can be fluid or precise. My process allows me to exploit this duality. Revisiting builds an intimacy with the subject similar to the manner in which one knows a surrounding landscape as a child. It is both explored and created. There are secrets there to be revealed but they change depending on how, when and by whom they are discovered. This is how I see reality. As quantum physics tells us, the simple fact that something is observed can alter its reality. Our actions leave marks. They impact our environment, our society, our family, friends and foes. They shape the universe.